All about Jim storch knives.
Welcome to my site, please feel free to snoop around and see what we have to offer.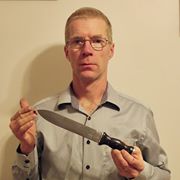 G'DAY Knife enthusiasts, so who am I? I'm a 3rd generation knife maker. My Grandma (Fierce Flossy) made knives in to her early 90's under the guidance of my Father "Ed" the Guru. Grandma also held a second place metal for Seniors Games (55+ Games) in javelin at the young age of 101, unfortunately she passed away at 102. BTW she was quit… angry that she was beat out by an 85 year old. I'm very proud to say that all 4 of my young adult children have also made knives, thus 4 generations. But as time rolls on my Grandma passed away but now to add to the intrigue we are expecting a new 4th generation knife maker in February 2023.
My Father "Ed" has been the guiding force in my knife making career, I call myself the 20 year apprentice, he keeps moving the bar higher. I strive to follow in his passion of an excellent edge. A knife has to perform to its required purpose. My family and I also run a cow/ calf operation where we use rotational grazing and produce a premium calf for sale. Off farm I hold a Funeral Directors Licence and work at Reflections Funeral Home in Vermilion.
Welcome to my website, here I hope to update you on what's happening around here and maybe even, well we'll see where we go.